Sellsuki awarded THB1 million in Visa's Everywhere Initiative
03/13/2018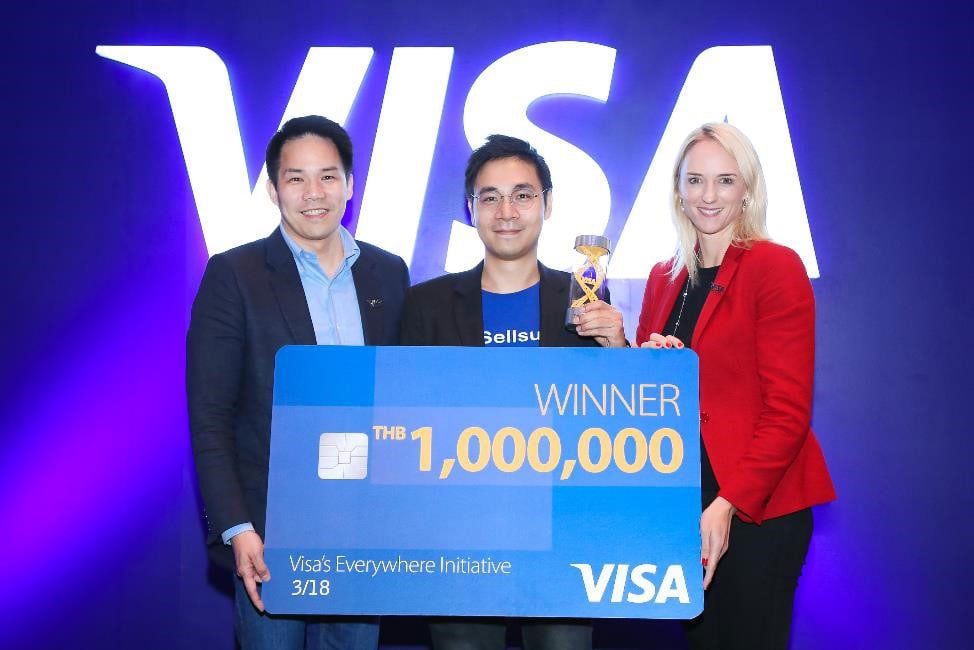 Sellsuki celebrated winning Visa's Everywhere Initiative in Thailand with Mandy Lamb (right), Group Country Manager, Regional Southeast Asia and Global Client Management for Visa and Suripong Tantiyanon (left), Country Manager, Visa Thailand and Lertad Supadhiloke (middle), CEO & Co-Founder of Sellsuki.
Visa, the world's leader in digital payments, announced the winner of its first Visa's Everywhere Initiative competition in Thailand, awarding Sellsuki the grand prize of THB1 million in funding, in addition to mentorship, exposure to Visa partners and access to facilities and experts at Visa's Innovation Center in Singapore. 1
The winner of the VEI goes to Sellsuki, a social-first omnichannel retail platform that helps merchants to manage their own sales channels with end-to-end integrations on a variety of logistics. In cooperation with Visa, Sellsuki will make use of Visa's APIs via adopting the use of digital payment services onto their platform, in order to help foster the most well-rounded e-commerce ecosystem.
Visa's Everywhere Initiative (VEI) is a global innovation program that challenges start-ups to build the next big thing in payments and accelerate the future of commerce, leveraging Visa's world-class network. The 2018 global program kicks off with the Thailand competition.
Of more than 80 submissions, a total of nine finalists were selected for the three opportunity statements:
1. How can start-ups innovate to create relevant and rewarding digital payment experiences for international tourists visiting Thailand?
UTU www.utu.global/
Angel Life www.angl.life
Instarem www.instarem.com
2. How can start-ups leverage social media platforms to accelerate commerce & scale access to financial services?
2C2P www.2c2p.com
Jumper www.jumper.ai
Sellsuki www.sellsuki.co.th
3. How can start-ups innovate to make digital payments easy to access and capable of adding value for merchants?
Seekster www.seekster.co
Digio www.digio.co.th
Silo
Silo won the People's Choice Award and THB200,000 in prize money.
Suripong Tantiyanon, Country Manager, Visa Thailand said: "There is a strong momentum in Thailand's fintech scene evident in the quality of the application we received. At Visa, we believe innovation hinges upon collaboration and co-creation, by bringing different parties together to jointly produce an outcome that brings value to all. Engaging with the start-up community through Visa's Everywhere Initiative is therefore crucial in growing the payments ecosystem and enabling new ways of innovation. We look forward to working with these companies, helping them to harness Visa expertise and APIs, to scale their solutions to the next level."
Visa's Everywhere Initiative was created in 2015 to harness the creativity and talent within the startup community worldwide. To date, nearly 2,100 startups have participated, and have collectively raised over $2 billion in funding. The program has selected more than 131 finalists and 36 overall winners. More than 40 countries and regions that have hosted Visa's Everywhere Initiative including the US, China, Australia, New Zealand, Europe, the Middle East, and Latin America.
Find out more about Visa's Everywhere Initiative Thailand and details of the winners and finalists: https://visa.co.th/everywhere.
1 Terms and conditions apply and are subject to change without notice.
About Visa
Visa Inc. (NYSE: V) is the world's leader in digital payments. Our mission is to connect the world through the most innovative, reliable and secure payment network - enabling individuals, businesses and economies to thrive. Our advanced global processing network, VisaNet, provides secure and reliable payments around the world, and is capable of handling more than 65,000 transaction messages a second. The company's relentless focus on innovation is a catalyst for the rapid growth of connected commerce on any device, and a driving force behind the dream of a cashless future for everyone, everywhere. As the world moves from analog to digital, Visa is applying our brand, products, people, network and scale to reshape the future of commerce. For more information, visit usa.visa.com/aboutvisa, visacorporate.tumblr.com and @VisaNews.