Powering Bangkok's Urban Commute with World Class Technology
07/04/2022
Visa and Krungthai Bank pioneering new payment engine to transform Bangkok's urban commute
Byline article: Suripong Tantiyanon, Country Manager, Visa Thailand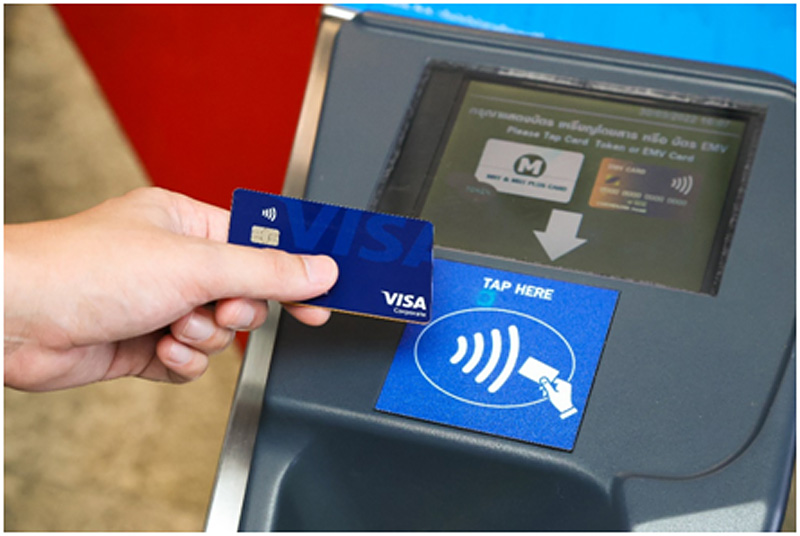 When Bangkok's mass transit system first opened its doors in late 1999, few of us could have imagined the impact it would have on the city. As well as making the city easier to navigate, the growth of the transport system has been the catalyst for extensive economic development around the city, helped children get to school faster, opened up new areas to local and foreign visitors, and reduced the environmental impact transport has on our planet.
As urbanisation increases and populations in cities continue to rise, so too does the stress on our current infrastructure. The good news is our city has been undergoing a transport revolution for the past years. And it is not just new routes that have been added. The payment engine is also receiving a major makeover. This will enable commuters to use their existing credit card to pay for fares, skip queueing up at ticketing booth, and ultimately travel from point A to point B faster, more seamless and more secured.
Recently Visa partnered with the Mass Rapid Transit Authority (MRTA), Bangkok Expressway and Metro (BEM), and Krungthai Bank (KTB) to pioneer the latest world-class payment engine on MRTA's blue and purple lines. This will provide an improved experience for commuters with the introduction of contactless payment acceptance on the MRTA's blue and purple lines. This means daily commuters can simply Tap to Pay with their contactless Visa credit cards providing a fast, convenient, and secure way to pay without the need to wait in line to purchase or top-up their dedicated travel card. With this launch Bangkok joins the likes of London, New York, Dubai, Sydney, and Singapore and more than 500 projects worldwide where commuters can Tap to Pay to enjoy a seamless daily commute.
Seamless and secure payment is made possible by Cybersource, Visa's digital payments solution that allows any card to be accepted. When the rider's 16-digit Visa credit card is tapped on the turnstile at the MRT's purple and blue lines it will be tokenized. That means that when the turnstile reads your card, instead of passing your sensitive 16-digit card information to a bank that accepts your payment, it converts it into a single time use token that allows payments to be processed without exposing actual account details. Another layer of security is that neither MRTA nor KTB will store the rider's credit card information. This is security by design.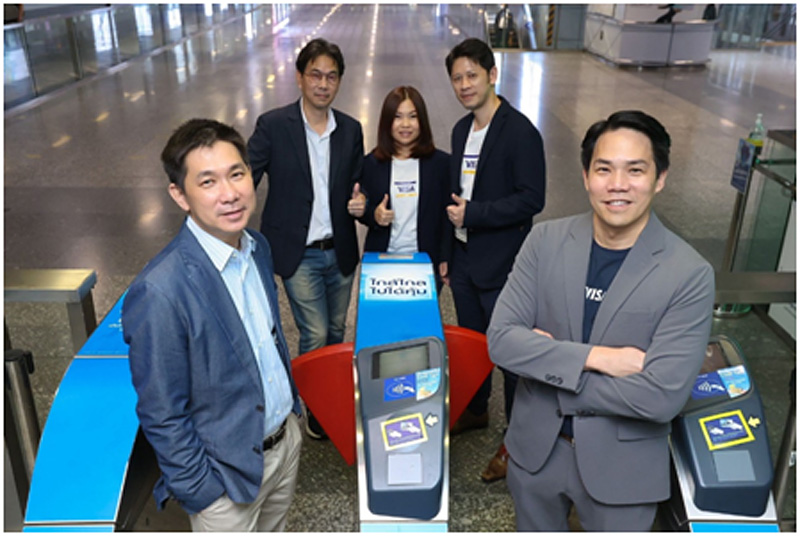 Front Row: Rungruang Sukkirdkijpiboon (left), Advisor to the President Acting Head of Retail Banking Product and Strategy, Krungthai Bank and Suripong Tantiyanon (right), Country Manager, Visa Thailand
Back Row: Kitipong Muttamara, Executive Vice President, Retail Payment Solution, Puttipong Tantipanarat, Director of Urban Mobility, Visa Thailand, Jattana Chambers, Cybersource Solution Specialist, Visa Thailand

Visa's partnership with MRTA, BEM, and KTB has finally unlocked what we call in the payments industry an "open-loop" commute, bringing to reality one of the biggest desires among commuters, especially if you live in the Bangkok area. The city's dwellers currently carry a multitude of stored-value cards in his or her wallet one for each mode of transportation. Visa has assisted Thailand in developing an open-loop system which allows one card to be used to pay for all travel services so travelers no longer need to buy and carry a ticket for each journey as they can pay using a payment card. In practice, that means people need just one card to pay for their daily travel to work, lunchtime food, shopping, and travel back home – it's a solution that accommodates all needs.
Implementing contactless payments also has many benefits for the operator. Fare collection expenditure can be reduced by more than 30% , and the cost of managing cash can also be reduced. Seamless travel should also reduce queues at stations and this will improve traveler satisfaction - studies in the US have shown the 84% of travelers in major cities became frustrated after waiting behind a customer who took a long time to purchase a ticket, and 67% said they missed their train due to long ticket queues. With contactless payments, we no longer need to wait to change coins or top-up our cards. Think of how easy travelling around Bangkok will be for visiting tourists – we'll be able to provide a truly seamless travel experience.
It's the latest piece of the jigsaw in connecting Bangkok's travel network, joining bus lines, tollways, and local ferries in accepting contactless payments. But in reality, the effect goes beyond being able to pay quickly and securely when you travel. Having a connected urban transport system has a significant impact on our three pillars of sustainability: people, economy, and environment.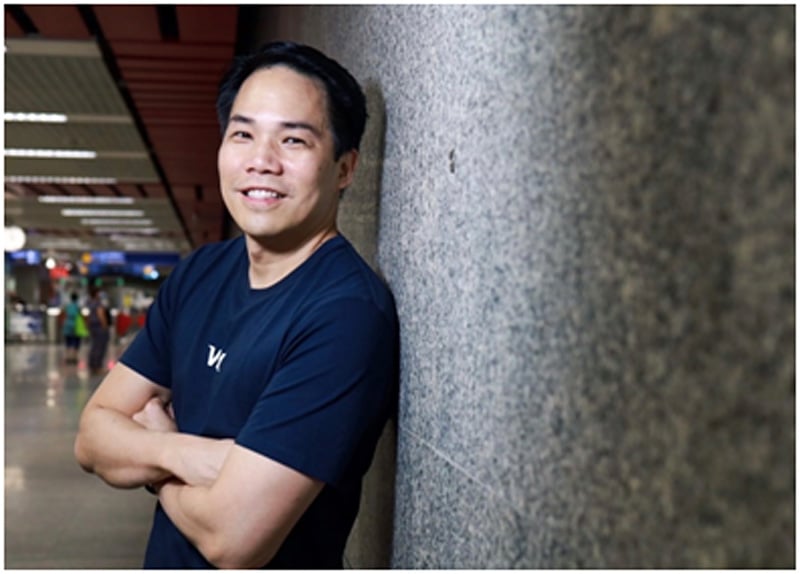 Suripong Tantiyanon, Country Manager, Visa Thailand

Perhaps the biggest benefit of enabling connected transit around the city is the opening up of new, undiscovered areas. This is great for adventurous tourists, but also long-term residents who can search for new cafes and restaurants and rediscover their city. This also takes the pressure from the city centre to provide all the workspace and services we need and can create jobs and allow small business to flourish. Not forgetting that increased ridership on public transportation can reduce carbon emissions and other forms of pollution .
While it's true that open-loop transit systems to help people get from one place to another more quickly and easily than before, the additional benefits shouldn't be forgotten as they can have a tremendously positive effect on the quality of our lives. As our urban spaces face growing challenges, we should remember that some innovative thinking and the right and proven technology can go a long way to solving these challenges, and even create new opportunities.
__________________________________________
1 Transforming Urban Mobility, Visa, 2020
2 Transforming Urban Mobility, Visa, 2020
3 Transforming Urban Mobility, Visa, 2020
4 Transforming Urban Mobility, Visa, 2020
---
About Visa Inc.
Visa (NYSE: V) is a world leader in digital payments, facilitating transactions between consumers, merchants, financial institutions and government entities across more than 200 countries and territories each year. Our mission is to connect the world through the most innovative, convenient, reliable and secure payments network, enabling individuals, businesses and economies to thrive. We believe that economies that include everyone everywhere, uplift everyone everywhere and see access as foundational to the future of money movement. Learn more at Visa.com.