Nine in ten Thais are interested in virtual banking – Visa study
03/14/2023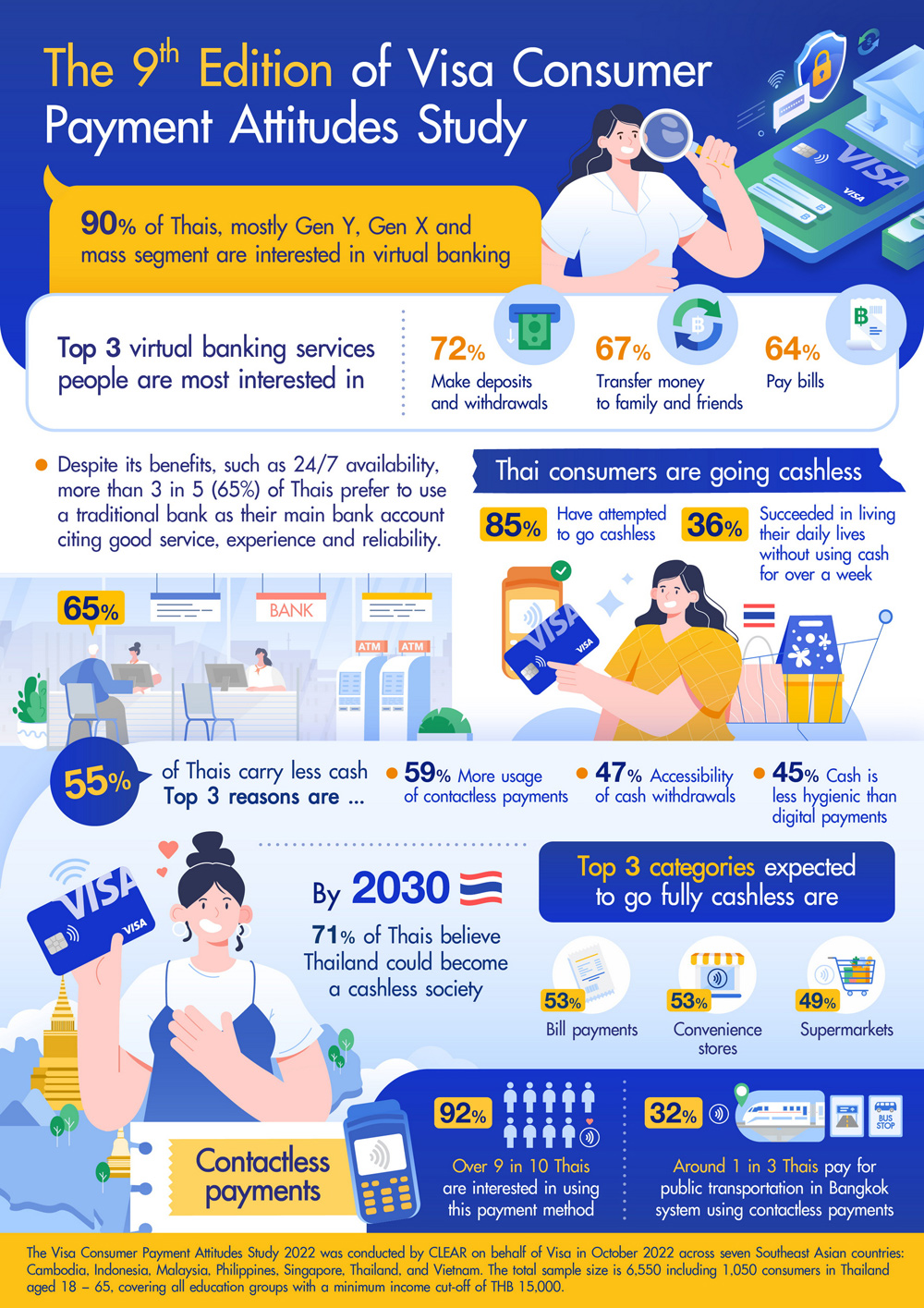 Visa, the world's leader in digital payments, has released findings from its latest Visa Consumer Payment Attitudes study1 (the "Study"), highlighting that nine in ten Thai consumers (90%), consisting mostly of Gen Y, Gen X and mass segments are interested in virtual banking.
The Study, which is conducted annually to better understand payment behaviours and attitudes of Thai consumers, also showed more than four in five respondents (85%) have attempted to go cashless. Over one in three (36%) are going about their daily lives without using cash for over a week.
Serene Gay, Group Country Manager for Southeast Asia, Visa said: "Digital payments have become more embedded in consumers' daily lives in Thailand. However, we still see huge opportunities to increase digital payment access for more consumers when it comes to financial services, transform user experience on digital banking and create more ways to help customers perform their banking activities."
According to the Study, people are most interested in virtual banking to be able to make deposits and withdrawals (72%), transfer money to family and friends (67%), and pay bills (64%).
Despite its benefits such as 24/7 availability and lower costs, more than three in five (65%) of the respondents prefer to use traditional bank as their main bank account due to good service, experience and reliability that these banks provide.
When it comes to cashless behaviours, more than half of respondents (55%) carry less cash. The top three reasons for carrying less cash are increased usage of contactless payments (59%), accessibility of cash withdrawals (47%), and cash being perceived as less hygienic (45%).
In addition, majority of respondents (71%) believe Thailand could become a cashless society by 2030. The top categories expected to go fully cashless are bill payments (53%), convenience stores (53%), and supermarkets (49%).
Contactless payments are growing in popularity in Thailand and over nine in ten Thai consumers (92%) are interested in using this payment method. Bangkok's transport system now accepts contactless credit cards and around one in three Thais (32%) pay for public transport this way.
"With the proliferation of technology and payment innovation, it is important that we continue to work with our clients and tailor our products and solutions to the needs of consumers and businesses. We hope these findings will help the payment industry in Thailand adapt to the changing trends in the payment landscape, create more opportunities to meet the needs of consumers and support Thailand's shift in becoming a more digital nation," concluded Serene.
____________________________________________
1 The Visa Consumer Payment Attitudes Study 2022 was conducted by CLEAR on behalf of Visa between September and October 2022 across seven Southeast Asian countries: Cambodia, Indonesia, Malaysia, Philippines, Singapore, Thailand, and Vietnam. The total sample size is 6,550 including 1,050 consumers in Thailand aged 18 – 65, covering all education groups with a minimum income cut-off of THB 15,000.
---
About Visa
Visa (NYSE: V) is a world leader in digital payments, facilitating transactions between consumers, merchants, financial institutions and government entities across more than 200 countries and territories. Our mission is to connect the world through the most innovative, convenient, reliable and secure payments network, enabling individuals, businesses and economies to thrive. We believe that economies that include everyone everywhere, uplift everyone everywhere and see access as foundational to the future of money movement. Learn more at Visa.com.